Boulder Chorale: Boulder's Oldest and Largest Community Chorus
For over 50 years, the Boulder Chorale has been a source of musical inspiration, education, and collaboration within the Boulder community. Our mission is to enrich and inspire a broad community through music.

In 1966, members of the chorus of the Boulder Civic Opera decided to become a separate entity, available to the Opera for performances, but also rehearsing and performing independently. The group consisted of five sopranos, five altos, and three men. And that was the start.
After hiring our first administrative staff in 2008, The Boulder Children's Chorale was launched in 2009, originally serving approximately 50 students in two choirs. In 2016 the Boulder Arts Commission awarded the Boulder Chorale a three-year operational grant to grow the Boulder Children's Chorale to four choirs with 100 enrolled singers.
Now, the Boulder Chorale is inter-generational with more than 200 singers, aged five to 90, who perform in six ensembles at free concerts, high-profile community events, and traditional performances. Members of the Boulder Concert Chorale tour internationally every two years with recent trips to Ireland and Canada. The Boulder Children's Chorale attended the Crescent City Choral Festival in New Orleans during the summer of 2017, the group's first out-of-state travel.
Boulder Concert Chorale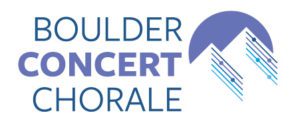 Dr. Vicki Burrichter, Artistic Director
The Boulder Concert Chorale is an auditioned chorus of 100-120 volunteer singers from seven counties. The choir performs a varied repertoire ranging from Renaissance polyphony, Baroque chamber music, and Classical masterworks to pieces in traditional styles such as African, Brazilian, Hindustani, and Bluegrass as well as works by contemporary composers. The Boulder Concert Chorale performs with the area orchestras and other performing arts groups and presents its own concerts often featuring new arrangements with local musicians.
Boulder Chamber Chorale

The Boulder Chamber Chorale is a select small ensemble comprising some of the finest singers from the Chorale. The group appears in Boulder Concert Chorale concerts, performs separately, presents outreach performances, and collaborates with area orchestras and other performing arts groups.

Boulder Children's Chorale
Kate Klotz, Artistic Director
Founded in 2009, the Boulder Children's Chorale consists of four ensembles that serve singers in kindergarten through 10th grade. With a heavy emphasis on music education and building children's individual talents, the Boulder Children's Chorale exposes children to diverse, quality choral repertoire while building their abilities as a musician and love for singing. The choirs of the Boulder Children's Chorale frequently collaborate with professional musicians and ensembles, including CU Opera and the Boulder Philharmonic, and regularly appear in The Nutcracker at Macky Auditorium. Members of the Bel Canto, the elite auditioned choir, travel every two years to choir festivals in the United States.
Piccolini – Kate Klotz, Director
Piccolini ("Little Ones") is the entry-level, non-audition choir for young singers. Singing in unison, students learn the basics of healthy singing and participating in a choir.
Prima Voce – Kate Klotz, Director
Prima Voce ("First Voice") is the non-auditioned choir for older singers new to the Boulder Children's Chorale. Singers develop vocal skills through more challenging repertoire and exercises. Students also receive instruction in basic music theory, learn to read music, and sing in two- and three-part harmony.
Volante – Nathan Wubbena, Director
Volante ("Soaring") is a more advanced choir for students in 4th through 8th grades. Emphasis is placed on learning to sing in harmony and reading musical notation.
Bel Canto – Megan Lawless, Director
Bel Canto ("Beautiful Singing") is the elite auditioned ensemble. Singers perform in two-, three-, and four-part harmony while working to develop strong musicianship and music theory skills. Bel Canto is the touring choir of the Boulder Children's Chorale.