Dr. Vicki Burrichter, Chamber Chorale Artistic Director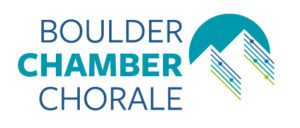 The Boulder Chamber Chorale is a select small ensemble comprising some of the finest singers from the Chorale. The group appears on Boulder Concert Chorale concerts, performs separately, presents outreach performances, and collaborates with area orchestras and other performing arts groups.
Auditions are required for this group and will be held January 8 & 9, 2023. Enrollment in the Boulder Concert Chorale is required for all Chamber Chorale members.
Rehearsals: Tuesday evenings, 6:00-7:00pm / Atonement Lutheran Church, 685 Inca Parkway, Boulder, CO 80303
Online Registration: Chamber Chorale registration is open!  Auditions are required prior to registering.  Chamber Registration Form
Dues and Music Fees (included) for the 2022-2023 Season*
Boulder Chamber Chorale
$140/ Pay in full at first rehearsal OR pay $75 per semester (due first rehearsal of each semester)
Purchase of Sheet Music
Concert and Chamber Chorale music is included in annual dues. It is secured by the chorale and will be made available to members the first weeks of rehearsals.
*Please Note: There will be no full or partial refunds due to any COVID-19 related absences, cancellations, outbreaks, quarantines, closures, or programming changes. Concert & Chamber Chorale COVID Policies and Information