Dr. Vicki Burrichter, Artistic Director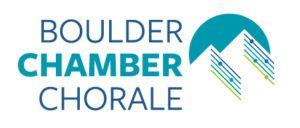 The Boulder Chamber Chorale is a select small ensemble comprising some of the finest singers from the Chorale. The group appears on Boulder Concert Chorale concerts, performs separately, presents outreach performances, and collaborates with area orchestras and other performing arts groups.
Annual membership dues for the Boulder Chamber Chorale are $110 and include all music required for performances.
Regular rehearsals are Tuesday evenings from 6:00 to 7:00 PM at Atonement Lutheran Church (685 Inca Parkway) in Boulder.
For information on auditioning for the Chamber Chorale, please visit our audition page.